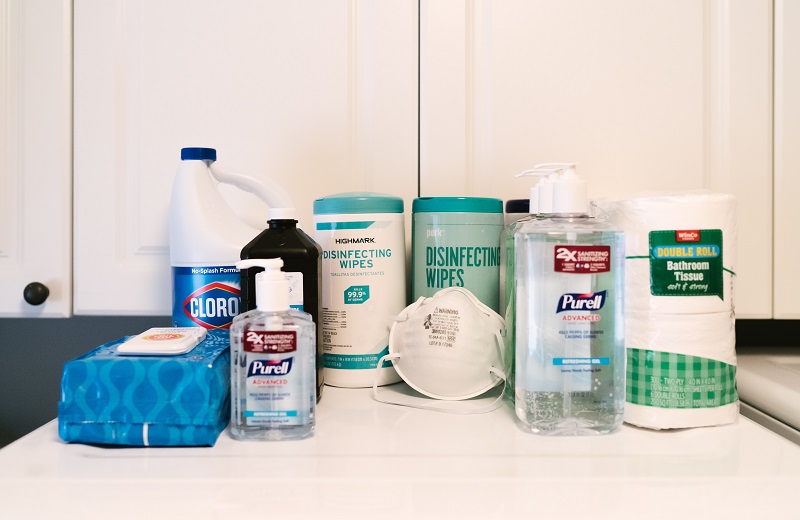 More and more people are taking extra steps to stop spreading coronavirus by wearing gloves and masks, sanitizing and washing their hands, and intensely cleaning their houses on a regular basis. The CDC recommends that you use EPA approved professional house cleaning supplies to ensure that your home is properly sanitized and cleaned, we'll go over some of the best ones in this article.
You must know which professional house cleaning supplies are the best, and that will clean and disinfect a home. Additionally, making sure that the spray stays on the surface for the correct amount of time can also make a huge difference when it comes to disinfecting.
You can achieve this by following the instructions on the back of the professional house cleaning supplies that will tell you how long to leave the cleaner on the surface to kill the bacteria and germs.
Professional House Cleaning Supplies
Below you'll find a list of the CDC recommended professional house cleaning supplies that you should use on your home or in your cleaning business to disinfect and clean properly.
Lysol Kitchen Pro Antibacterial
This is a great cleaner to have if you're cooking with raw beef, turkey, chicken, or other meats when there is the chance that the meat will make a mess on your counter. This cleaner will protect you and your family from foodborne illnesses such as salmonella. It works by killing 99.9% of bacteria and viruses and can easily remove grease stains.
Lysol Disinfectant Spray
This spray is known for deodorizing your house, but you can also use it to sanitize soft surfaces, such as chairs and couches. By having a fresh and clean space, you're creating a healthier environment for you to live in.
Claire Bathroom Cleaner
This is an EPA-approved professional house cleaning supplies that can be used at home or in medical facilities. You use the Claire Disinfectant Bathroom Cleaner to help deodorize and clean bathroom walls, toilet seats, and more.
Clorox Wipes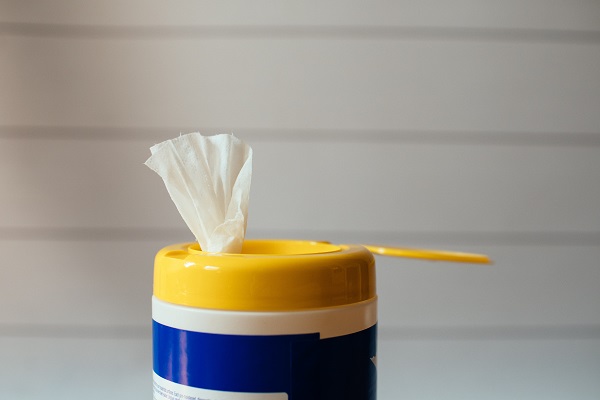 Eventually, you'll need to go out and purchase essential items and supplies. But while you're at it, you should think about the cleanliness of your car from bacteria and germs. Having Clorox Wipes on hand will allow you to easily wipe down your steering wheel, door handle, and other frequently touched surfaces.
Fantastik Multi-Purpose Degreaser
Your oven is probably full of food pieces that have been baked into the walls of your oven and grease splatters. This disinfectant degreaser is recommended by the EPA to get rid of tough grease spots while also effectively cleaning and disinfecting the area. This cleaner must be left on the oven surface for at least five minutes before being wiped dry or rinsed with water.
Proxi Home General Spray
It's always a great idea to have professional house cleaning supplies that can be used on any surface. That's where the Proxi disinfectant spray comes in. This cleaner is a multi-purpose cleaner that can be used to disinfect several surfaces to remove tough greasy spots or used to prevent the growth of mildew or mold.
Clorox Pet Solutions Odor & Stain Remover Spray
Several professional house cleaning supplies can be dangerous to your pets, so while you're deep cleaning your house, you might want to double-check that your cleaners are safe for your pets. This particular cleaning spray is EPA-approved to remove stains made by pets without any harsh chemicals safely.
The Works Toilet Cleaner
The toilet is by far the dirtiest place in your house because it can build up bacteria and rust over time. The Works is an approved product by the EPA that breaks down limescale and removes stains while also deodorizing your toilet.
Lysol Bathroom Spray
From the bathtub to the toilet, there are hidden bacteria on all surfaces of your home – especially if they don't get cleaned often. This bathroom cleaner can remove soap scum and limescale from your bathroom and kills 99.9% of viruses and bacteria. Let the cleaner sit for around 20 seconds – or 10 minutes if you want to disinfect – before wiping down the surface.
Comet Bathroom Cleaner
It's best if you don't mix different professional cleaning supplies together to get a deep clean of an area or room, this is one of the ways that you could be cleaning your house incorrectly. Instead, it's best if you find a multi-purpose cleaner that allows you to clean more than one surface. This is where Comet comes in. It can disinfect and clean multiple surfaces in your bathroom so you can properly, and cheaply, clean the entire room.
Scrubbing Bubbles Bathroom Cleaner
This cleaner can kill 99.9% of bacteria and viruses that lurk in your bathroom, including salmonella and E. coli. It can also remove dirt, rust, calcium, and limescale from shower doors and walls, the bathtub, and even the sink.
Lysol Laundry Sanitizer
Whether you need to run out for groceries or your job requires you to go outside, you must be properly washing your clothes. This cleaner can disinfect your clothes and kills 99.9% of bacteria that most laundry detergents can leave behind.
Benefect Botanical Daily Cleaner
A great tip for cleaning your house with professional house cleaning supplies is to work from the top down. This is so when you're cleaning a high place, it won't get your clean floors dirty. Your carpets are by far the most overlooked place in your home so that it can collect a lot of dust and dirt. This cleaner will not only help you disinfect and clean your kitchen and bathroom but can also deodorize and sanitize your carpet.
Using professional house cleaning supplies that are recommended by the CDC and EPA can help you effectively clean a home and kill almost all viruses and bacteria that might be lurking on the surfaces of the home. Using these professional house cleaning supplies is a great way to ensure that you and your family are happy and healthy. As a professional cleaner, using the right cleaning product in a home can make a significant difference for the clients.
To better ensure you and your cleaning crew are properly disinfecting and using PPE, check out our annual training course on disinfection and PPE for cleaning staff.