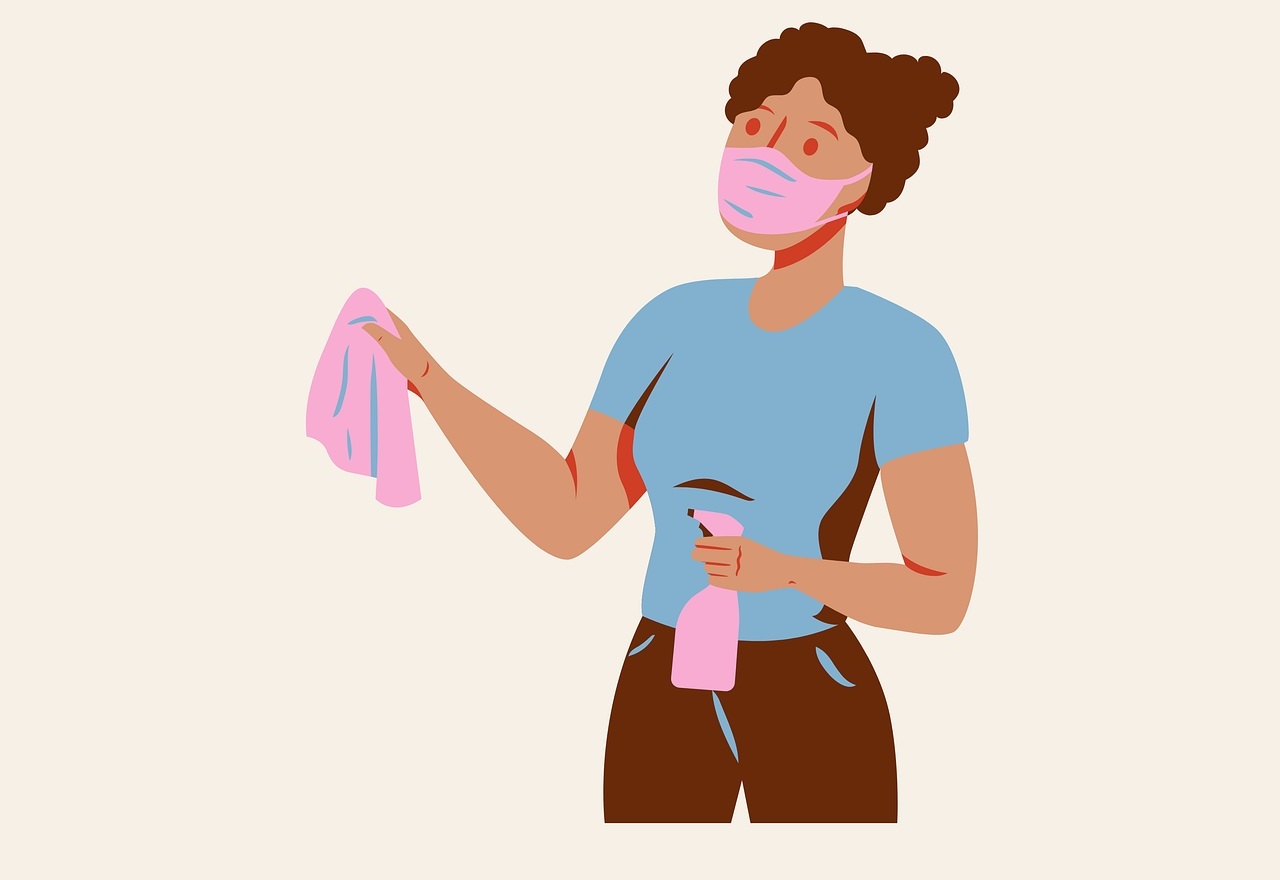 The CDC, in conjunction with other health bodies, has come up with guidelines on how facilities are to be cleaned post-COVID-19. Some of the line items in these guidelines call for a refresher on cleaning training for most cleaning professionals.
It is not as much about learning how to clean as it is about learning how to clean safely in a post-pandemic world. While the best cleaning training and certification programs offer you the skills and knowledge you need to be a professional cleaner, these guidelines give you the information you need to do so in a manner that protects not only you but also the facility on which you are working.
Here is everything you need to know about cleaning in the post-COVID world:
Your Own Protection When Cleaning
The wearing of protective gloves has always been part of the "good practices" for professional cleaners. This is mostly because sometimes, you are required to handle cleaning agents and substances that can be corrosive and harmful to the bare skin. However, in a post-COVID world, those gloves take on a whole different meaning.
While it is true that you still need to wear gloves to protect your hands when using corrosive cleaning detergents, now you need to wear disposable gloves that you can get rid of as soon as you finish cleaning every room to avoid contaminating any other place you will be cleaning next.
Now you also need to wear additional protective gear such as a face mask and protective clothing to help keep your body as safe as possible when cleaning common public facilities such as hotel rooms, restaurants, or offices.
Understand the Importance and Difference of Cleaning/Disinfection
Cleaning and disinfection often go hand in hand when you are doing a deep clean of any facility. In these post-pandemic times, you need to have a better understanding of the difference between the two aspects of cleaning:
Cleaning: This the physical action of removing dirt, germs, and other organic as well as inorganic matter from a surface. It often involves sweeping, dusting, and moping a specific location.
Disinfection: This is the use of specifically mandated chemicals to kill germs from the surfaces that you are cleaning.
One of the biggest bits of information for you as a cleaner is that it is important to clean the surfaces before disinfecting them. The dirt and other organic matter found on surfaces can reduce the effectiveness of whatever disinfectant you might be using to try and kill the germs that could spread the virus. It is therefore advisable to use a combination of cleaning and disinfection to kill the Coronavirus.
Post-COVID Routine Cleaning
It is important to realize that you will have to clean most spaces daily and sometimes even more than once a day when dealing with public facilities. You should pay special attention to frequently touched spaces such as doorknobs, light switches, toilets, TV remotes, taps, kitchen surfaces, and so on.
You could, however, do a thorough cleaning once then regularly disinfect the surfaces throughout the day. The other alternative is to do a 2-in-1 cleaning and disinfection job by using a cleaning agent that is a combination of detergent and disinfectant.
The frequency of this cleaning and disinfection routine will also greatly depend on how much human traffic the particular space receives. For facilities such as restaurants, hotel lobbies, and general workspaces, it will call for more frequent and routine cleaning as well as disinfection than a space that has just one or two employees who operate the same machine without interacting with other people.
Steps to Take When Cleaning Post-COVID
In your cleaning training, you will learn all the necessary steps you need to take to effectively and professionally clean a facility.
However, due to the increased risk of infection in this COVID-19 era, there are certain additional steps that you need to take to both protect yourself as well as the people visiting the facility you are cleaning:
Wear disposable gloves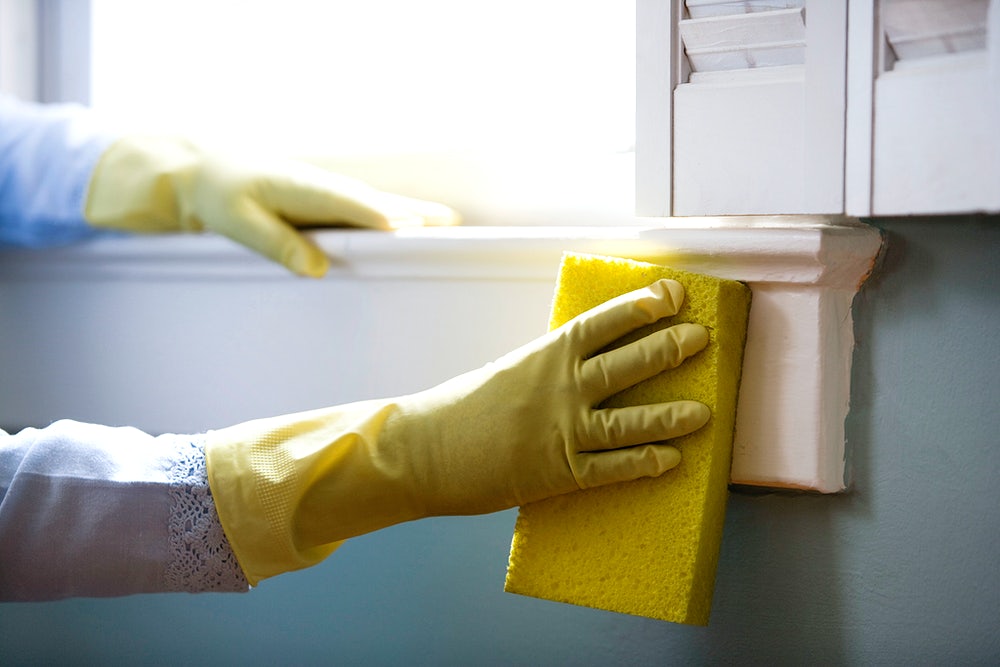 This is a must now, and the gloves you use have to be properly and safely disposed of after each cleaning session. If for budgeting purposes, you must use reusable gloves, then have a pair designated for COVID-19 related cleanup. This pair should be handled with care and should never be used for any other cleaning duties nor shared between workers.
They should also be thoroughly washed with detergent and disinfectant after each clean and left to dry completely before the next use. Remember to clean your hands immediately after removing and cleaning those gloves.
Clean using detergent, water, and disinfectant
As per your cleaning training course, you should always clean from the cleanest surfaces to the dirtiest. This ensures that you do not transfer germs and dirt from the dirtier surfaces to the clean ones. Remember to clean the surfaces first before using a disinfectant.
Allow the disinfectant to sit on the surface
Manufacturers have a recommended time within which their specific disinfectant kills the virus germs. Depending on the disinfectant you are using, allow it to sit on the disinfected surfaces for that specified period to give it the best chance of killing the virus.
However, if you are using a disinfectant that doesn't have a specified period, then it is good practice to let it sit on the surface for 10 minutes.
In all this, remember to thoroughly ventilate all the rooms you are cleaning to allow for increased air circulation, which in turn reduces the chances of any contaminated particles that might linger.
If you are ever called upon to clean spaces that have come into contact with suspected COVID-19 cases, then you need to take extra care. This calls for completely closing off the suspected area before giving it a thorough cleaning and disinfection.
In this case, you should wear disposable PPE (personal protection equipment) that is not to be reused but expertly disposed of in plastic bags. You need to double-bag these PPEs before disposing of them.
Get your expert post-COVID cleaning training and certification today.