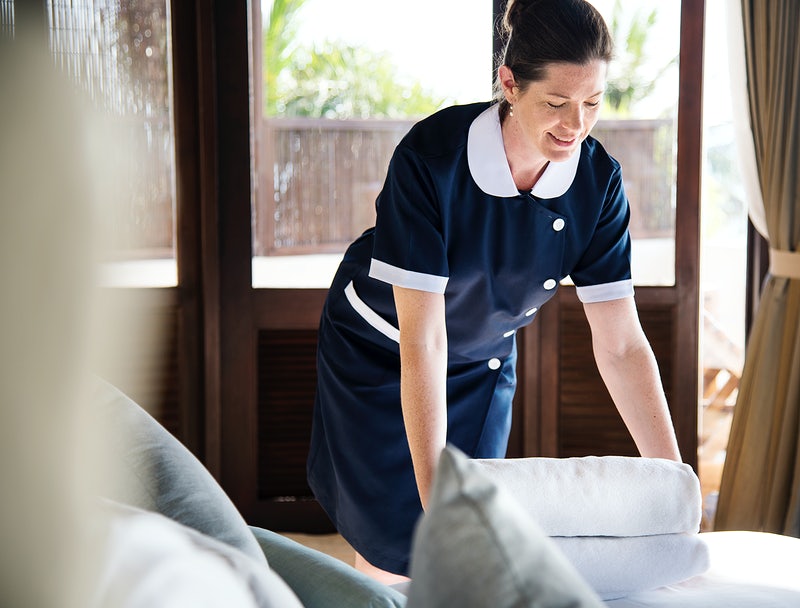 It is often erroneously presumed that "anyone can clean." While this is true to some extent (the extent that if you have sufficient motor skills such as moving your hands, feet, and maneuvering your body to get to those hard to reach surfaces), it is also very misguided.
Professional cleaning is anything but "just another job that anyone can do." Training courses for cleaning staff have become extremely important, especially in these post-COVID times.
Why Cleaning is More of a Technical Skill
To understand why highly specific training courses for cleaning staff are necessary, you must first understand the technical aspects of professional cleaning.
It is largely assumed that cleaning is just a matter of picking up any detergent, a cleaning apparatus such as a mop or vacuum cleaning and getting to it. Granted, this could be slightly true for people who are just cleaning their home and don't intend to use any heavy-duty detergents.
However, when it comes to professional cleaning jobs, especially those that involve highly sensitive facilities such as production plants, chemical labs, and even restaurant kitchens, things take a whole different turn.
Let's consider the cleaning agents used in any one of these scenarios. Let's say the cleaning agents that you would need to use in a restaurant for the facility to be partly compliant with the COVID-19 cleaning guidelines established by the CDC.
Not only do these guidelines call for heavy-duty detergents and disinfectants, but they also call for extra care by the cleaning staff (PPEs and other necessary procedures).
You quickly learn that it is no longer a matter of just picking up any old soap and mop with which to wipe the floors. Forget about the COVID-19 scenario for a second, and let's assume the world was back to normal.
Even then, there are still some necessary steps that need to be taken to not only ensure that the cleaning process is effective but that it doesn't damage the surfaces or facilities being cleaned.
Did you know that some cleaning agents react adversely with certain surfaces? What would you do if you are called upon to clean a vintage car, and the detergent you pick corrodes the expensive and exclusive paint job? How about wooden floors, expensive artifacts around the home or office, and even highly exclusive lampshades?
Cleaning is often a highly technical skill because the process of cleaning very succinctly blends chemistry (cleaning agents, waxes, polishes, acids, and disinfectants) and mechanics (cleaning apparatus).
Furthermore, this fine balance is often tested on the prevailing environmental conditions, such as what you need to use during spring when hay fever is prevalent versus what you need to use in winter.
Choosing the wrong mix of chemicals, cleaning apparatus, and surface material could either lead to irreparable damage to the surface material or even the cleaning staff member, or it could lead to inefficient cleaning where the chosen components don't do exactly what you expect them to do. And this is why training courses for cleaning staff are necessary.
There is more to cleaning than just wiping down surfaces. The following training courses are designed to help equip your cleaning staff with all the technical as well as people skills they need to make an excellent employee.
Cleaning Course Certification
Every professional cleaning staffer needs to undergo a professional cleaning course or two before they can get their cleaning certification. This is quite essentially the badge of honor showing that they have the technical skills and know how to clean public and private spaces.
There are two very good cleaning courses that you can undergo and get certified for in a very short period of time:
Cleaning Certificate for Vacation Rental Housekeepers
This is a 1-hour course that covers everything you need to know in terms of health, disinfecting, cleaning and PPEs (Personal Protective Equipment) for cleaning staff members who want to work on vacation rentals, boutique hotels, and condos. This course can be taken by both new and trained cleaners as a refresher as well as to learn the latest cleaning industry-standard requirements in the field.
Cleaning Certificate for Inspectors, Maintenance and other Staff
This is also a 1-hour course that is designed for maintenance staff, health inspectors, and other cleaning staff members who work on vacation rentals, resorts, and condos. The course covers the most vital parts of professional cleaning, such as effective disinfection, health as well as PPEs.
Unlike the previous course, this is geared towards the education and training of non-housekeeping staff who work for vacation rentals, resorts, and condos. It highlights and trains them on the current industry standards.
Why Are These Courses Important?
Every single one of these courses takes you through the most important aspects of training and preparing you to remain safe in a post-COVID world. Some of the most vital parts of the curriculum include:
How to tell if you are at risk of contracting COVID from contaminated surfaces during the cleaning process
Training you to work with the basic assumption that everyone has COVID-19
Delve into the importance of personal protective equipment such as masks, gloves, and eye protection. Also, how to properly and safely dispose of these PPEs once you have successfully cleaned a contaminated room
What Other Courses Can Benefit Cleaning Staff?
If you want to have a well-rounded cleaning business with the most professional cleaners, you have to encourage them to take on more than just the mandatory training courses for cleaning staff.
Other courses can also benefit these staffers by not only making them much better at the technical aspects of their cleaning job but also the professional angle of things. Some of these courses touch on:
Health and Safety Training
Customer Care
Conflict Resolution
Hazard Cleaning
The beauty of this is that many of these courses don't require that much time to complete and get a certification. They also don't cost that much, which makes them accessible to every cleaning staffer who wants to enhance their professional as well as technical skills.