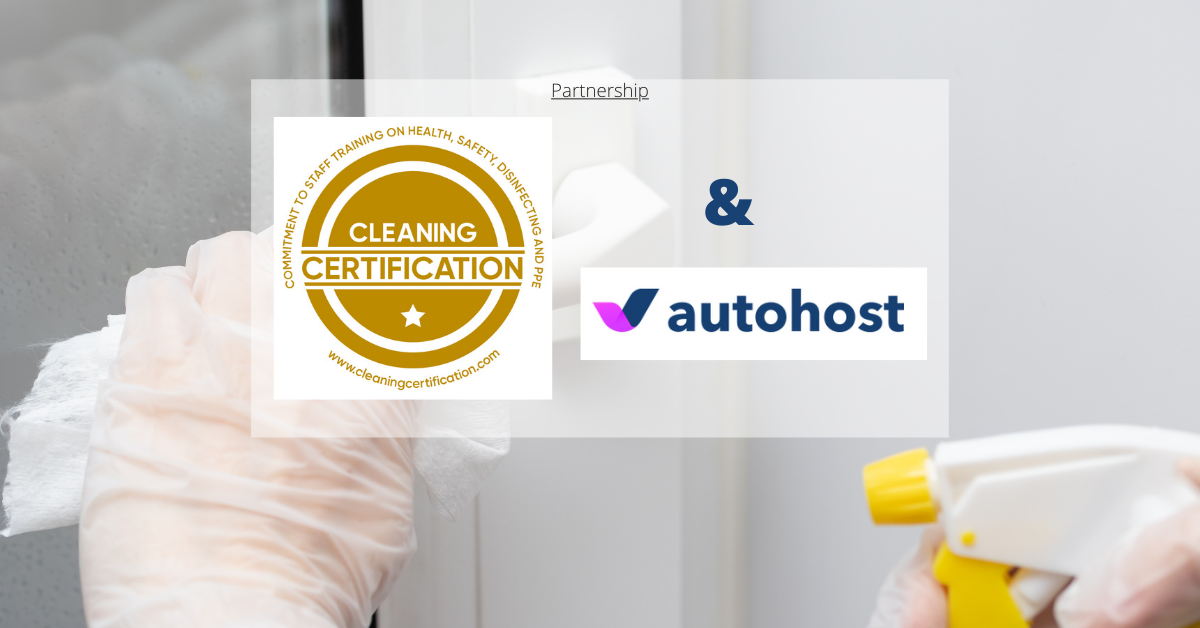 Cleaning Certification has partnered with Autohost.ai to help to spread the word for both companies. Both companies service the same vacation rental host and property manager audience, and both provide solutions to increase trust and safety.
Autohost allows property managers to automate their guest-screening and verification process. By reducing risk, hosts can eliminate booking restrictions to maximize profitability. Hosts can focus on growing their business and leave security to Autohost.

"Trust is top of mind for all Vacation Rental managers and owners right now." Says Jill Mason, founder of Cleaning Certification. "Autohost is a great partner for us, since we both provide solutions to increase trust and, even more importantly, we both make it easy and efficient for the property managers and hosts. The last thing property managers need is more work."

About Cleaning Certification

Show guests your rentals are safe and trusted. The Cleaning Certification program is platform for property mangers to promote their adoption of new cleaning protocols. To comply, workers take a 1-hour online course on how to minimize the spread of COVID-19 and how to stay safe. Each verifiable badge earned by managers have proven to increase bookings and reduce customer service. Learn more at https://www.cleaningcertification.com
About Autohost
Know Your Guest. Autohost's dynamic guest-screening and verification system is revolutionizing trust and safety in the hospitality space. Our clients enjoy increased profitability by eliminating booking restrictions and minimizing chargebacks. Autohost handles the security, leaving hospitality providers to focus on guest experience and growth.
Our mission is simple: To be the best software vendor for our clients, while handling their entire guest screening process, start to finish. Autohost scans, inspects and ranks every reservation to flag high-risk guests. Examining hundreds of data points, we run background checks, credit checks and criminal record checks, providing property managers with easy-to-interpret risk scores and actionable insights. Trust Autohost, the customizable security solution. There's a better way to scale. Learn more at https://www.autohost.ai